We are here to help you get ready for Thanksgiving!
This week is special because this Thursday we will have a Beaujolais Nouveau tasting!
On Friday in preparation for Turkey Day, we will have 4 wines open:
A white Burgundy Chardonnay from Macon-Village,  France
And 3 reds: a Pinot Noir/Gamay blend from Loire Valley, France
A Criolla grande ( a new trendy grape) from Mendoza, Argentina
A south of Italy juicy Negroamaro grape!
On 

Saturday

, we will present the 

Standard

 Wormwood Rye and their tasty Agave!! Directly from Bushwick Brooklyn!!
Tasting

 time: 6:00 to 9:00pm
See below for full 

information

:
Thursday:
Beaujolais

Nouveau

est Arrivé!

Beaujolais

Day!
We will have our Annual 

Beaujolais

Nouveau

tasting on the day of its release.
BEAUJOLAIS

NOUVEAU

2018
ANTONIN

RODET
The

Beaujolais

region of France is home to the Gamay grape, and is renowned for several wines produced from this hand-harvested fruit, fermented by carbonic maceration and bottled just six to eight weeks after harvest (as opposed to the months or years some wines are given).
Characteristics:
Made according to the traditional Beaujolais winemaking method. This includes macerating the whole bunches of grapes for a short period, from 5 to 7 days, to get just the right balance of colour, aromas and tannins in the selected cuvees. The vats are temperature controlled in order to extract as much fruit as possible.
Tasting Notes:
Colour: Intense ruby red with purple glints.
Nose: Powerful aromas of red berries: red currant, raspberry and cherry give the first nose tremendous appeal.
Palate: Delectable, very elegant and full-bodied on the palate with a soft, velvety finish and good length.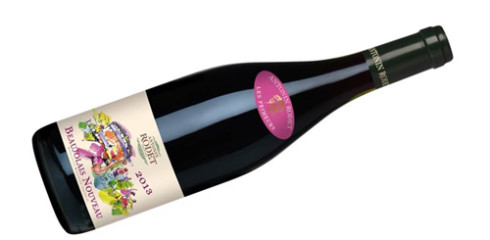 Jacques Charlet, Mâcon-Villages La Crochette (2016)
Grape: Chardonnay

Geography: Burgundy, France

Appellation: Mâcon-Villages
The Charlet wines are made by the Barbet family, whose cru Beaujolais we also import. The Charlets and Barbets are related through marriage, and the Charlets were the original owners of Domaine des Billards in Saint Amour. 
The Barbets purchase fruit from families they have known for generations. The land is farmed sustainably and the wines are made at the winery in Beaujolais.
100% Chardonnay grown in a limestone-clay soil from vineyards in Viré-Clessé and west of the village of Mâcon. The "La Crochette" is vinified in stainless steel tanks to maximize floral notes and fruitiness, making it a fresh, vibrant and classic Mâcon-Villages.
---
François Cazin, Cheverny Rouge (Pinot Noir/Gamay) (2015)
Grapes: Pinot Noir and Gamay

Geography: Loire Valley, France

Appellation: Cheverny
François Cazin tends vines of considerable age and the resulting yields are well below average in any given year. His Cheverny is fresh and floral, with appley-texture and crisp acidity. The flavors are sleek and precise. Since 1997, the wine has been bottled unfiltered by gravity. His wines have consistently been the top pick of the vintage at the annual Loire Valley wine show in Angers.
63% Pinot Noir/33% Gamay./4% Côt. Estate vines averaging 30 years old on clay-limestone vines, sustainably farmed and harvested by hand. The Pinot Noir is destemmed and macerated for a week, while the Gamay is whole-cluster fermented semi-carbonically; the small bit of darker, more tannic Côt, aka Malbec, adds a touch of color and structure. Stainless steel, no oak. 'Le Petit Chambord" is the ancestral name of this property and appears on the label.
The nose, expressive and complex, combines strawberry and raspberry slightly stewed with notes of black fruit and a hint of leather that reflect the grapes harvested with good maturity. Generous and powerful, supported by velvety and melted tannins, the palate stretches into a long finish on red fruits.
---
Via Revolucionaria, La Criolla Grande Mendoza (2018)
Grape: Criolla Grande

Geography: Mendoza, Argentina

Appellation: Mendoza
The oldest grape varieties in South America have been sidelined for the past hundred years, but a new generation is now reclaiming its lost winemaking heritage as Criolla varieties re-emerge from the shadows.
When the Spanish first conquered the Americas in the 1500s, they brought the holy trinity of cultivars – olive trees, wheat and grapevines. Whether planted as sticks or seeds, the first grapes to grow were known as the Criolla, or Mission, varieties: a select handful of varieties picked for their highyielding and resilient nature, and destined to conquer the New World.
Of these founding varieties, which included Moscatel, Pedro Ximénez and Torontel, the most important was a red grape commonly known as Listán Prieto in Spain, Mission in the US, País in Chile, Criolla Chica in Argentina and some 45 other synonyms in-between.
Via Revolucionaria is located in Tupungato, Uco Valley Mendoza. Matias Michelini is the winemaker and agron- omist. Matias strives to make experimental wines that ex- press terroir. These wines are extremely low production and are drawn from multiple inspirations, regions, and styles. The Via Revolucionaria wines are all low production, single vineyard, unconventional wines, fermented with native yeast. 
The Criolla grande is fermented via carbonic maceration.  fermented in an open amphora with native yeast and no added sulfur.
Description: A wine full of intense red fruit aromas evoking strawberries, raspberries, blackberries and cherries. Light and fresh; simple, pure and genuine.
---
Perrini, Salento Negroamaro (2017)
Geography: Puglia, Italy

Appellation: Salento

Features: Organic
In the southernmost part of the heel of the "Italian boot", otherwise known as the Salento Peninsula of the Puglia region, the Perrini family has been growing grapes and making wine for generations. For many years, most of their fruit was sold off to négociants, as the means and finances to estate-bottle were prohibitive. Current generation Vito and his sister Mila Perrini set about changing that in the 1990's, building an underground cellar and converting their fifty hectares to certified-organic viticulture–neither of these steps being the norm for a bulk-production-oriented region accustomed to heavy-handed, high-alcohol red wines. Their vines average 30-35 years of age at this point, spread amongst several zones in the hills around Castellaneta near Taranto on a mix of sand, limestone and clay soils. 
Perrini wines are remarkably balanced, light-handed and savory compared to the usual Puglian fare, especially at their very modest price level. This Negroamaro comes from estate vines averaging 30-35 years of age, with some as much as 60 years old; done in stainless steel, it has compelling aromas of blood orange and spice, with dark fruit and bright acidity on the palate.
---
---
Standard

Wormwood Distillery, Wormwood

Rye
The distillery is founded on experimenting with wormwood spirits. Early on in their trials, wormwood was an illusive banned ingredient, best known for its use in traditional absinthe. On their first distillation they fell in love with more than the myth though, the subtle lucid wakeful feel was unlike any other spirit. Unknown to their at the time, spirits with wormwood were nearing the end of a century old ban.
Only making small batches, hand-made still and using a grain-in-column distilling technique makes for a completely crafted method that they use to this day at distillery in north Brooklyn on the border of Bed-Stuy and Bushwick, a short walk from where they started experiments in the mid 2000s. The grain come from upstate farms where they grew up around, the same region where they source all local organic NY grains from and grow their own wormwood. It makes the spirits smooth at 90 proof with distinct layers and complexity that continue long into the finish of every sip. This is the standard distillery – pushing the boundaries of classic liquors by redefining and reinventing the craft of what wormwood spirits can be.
 Notes of rye spiciness and smoky oak- no water and no sugar is needed, and no anise or licorice is used. Crafted over a decade, bottling the feel of absinthe and the heart of rye. The wormwood spirit is a complex and perfect go-to drink that redefines what wormwood spirits can be. Substitutes uniquely for classic whiskey cocktails because of the grain and oak aging.
---
Standard

Wormwood

Distillery,

Wormwood 

Agave
Notes
Using a Whole

Agave

, hearts and leaves, and smoking it with pineapple and pumpkin seeds we have created something new here. An

agave

spirit with similarities to tequila and mezcal but distinctly wormwood influenced with a corn thin mash fermentation. There is a balance with the smoothness of a tequila and finish of smoky mezcal, the wormwood rounds out the spirit while creating a complex front, middle and finish. We brought up whole

agave

from Texas to make this limited release. Spicy fresh cut pepper notes come through on the nose and are balanced with a deeper smooth body and a smokier finish, a distinct variation on

agave

spirits.